Accounts payable
automation
from
the comfort of
your ERP.
Speed up your workflow by automating resource-heavy
manual tasks and streamlining invoice processing.
Simultaneously mitigate risk and drive
AP process efficiency.
PairSoft seamlessly blends into your ERP interface to work in concert with your current database. Our software eliminates manual data entry associated with invoicing, audit trails, purchase orders, and approval workflows.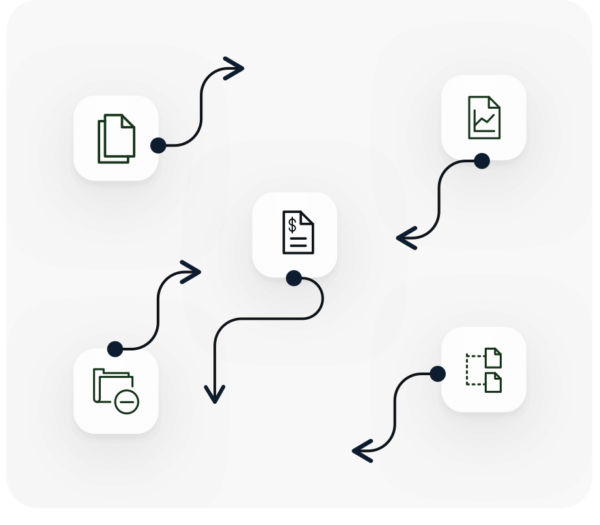 Without PairSoft:
Complex software
Limited software capabilities
Stressful audits
Labor-intensive document management
Unfulfilled and overworked teams
Transaction and invoice delays
At-risk documents and data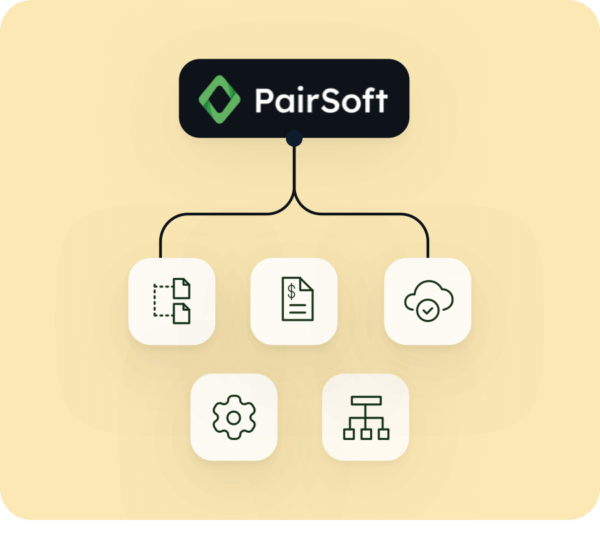 With Pairsoft:
Seamlessly embedded software
Customizable software tools for AP Automation +
Ready-to-send audit reports
Document capture, storage, and retrieval
Improved productivity and job satisfaction
Faster invoice approvals and vendor payments
Advanced document encryption
Get a PairSoft demo.
Please complete the form to get a live demo. We'll tailor the demo to your needs and answer all of your questions.
Get A Demo
Arm your AP department with the tools they
deserve, without the learning curve.
Boost workflow efficiency
Connect remote and in-person teams across multiple departments with complete data visibility and customizable, rule-based workflows.
Streamline approval pathways
Stay on time and on budget with predefined approval routing, user tracking, and escalation capabilities throughout the payable process.
Expedite invoicing
Extract and transfer financial data from electronic and paper documents, then instantly validate it against your entire ERP database.
Process over 4x the number of paper invoices per day, per employee.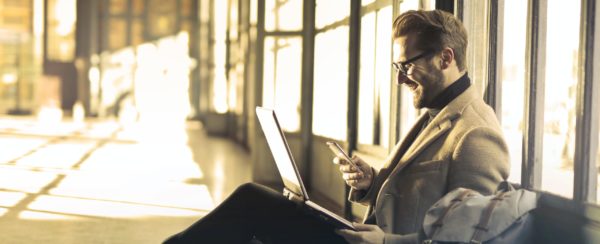 Case Study
KAYAK goes on an international adventure with PairSoft.
Multi-entity and multi-currency requirements meant KAYAK needed more automation in its ERP to work across 34 countries (and 18 languages). PairSoft automated vendor invoices across the world and reduced duplicate payments.
What is accounts payable automation software?
Many CFOs, finance teams, and AP teams turn to accounts payable automation solutions to streamline their invoice and document management processes. AP automation enables you to go paperless. AP automation solutions like PairSoft integrate into your accounting systems, financial systems, and/or ERP system to reduce or eliminate the need for manual data entry during invoice processing. AP automation software prevents inaccurate and inconsistent data and duplicate payments resulting from manual processes and human error. Accounts payable software speeds up payment processing and approval processes, improving relationships with vendors and allowing you to capture early payment discounts.
How is AP automation related to procurement?
Procurement and accounts payable business processes are two parts of the larger procure-to-pay process. Well-managed procurement processes create cost savings, support healthy cash flow, reduce the number of approvals, and simplify receiving and invoicing. They ensure that invoices do not appear as a surprise to the accounts payable department.
What are the best AP automation solutions?
The best AP automation solutions include customizable workflows that fully integrate the AP system with the ERP and other financial systems and business processes to remove bottlenecks and streamline repetitive tasks such as data entry. They perform touchless data capture using optical character recognition (OCR) and validation, leveraging artificial intelligence and machine learning to transform digital supplier invoices (e.g., PDFs) and paper invoices into digital records available in real-time. They automate invoice processing and invoice management, including three-way-match, extracting invoice data in real-time, greatly reducing processing costs.